Tweet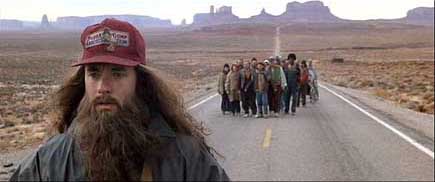 Twitter makes me feel a little like Forrest Gump.  Who are all these people and why are they following me!?

At first I was thrilled! yea!, look someone is following me!  And it was mainly good.  Sure, I had some Bots offering me Russian Brides and free iPads.  But, I go to NYC fairly often and get even more interesting offers from Street Vendors (that isn't really chicken is it? and no, I don't want to support your cat, and, um, others…)  For the most part I thought is was great!
Oh, look new follower.  Click through their profile, see what they Tweet. Hmm, broadcasting, linking, #teamfollowwhatever, scroll scroll, ok, nevermind on this one. Oh, wow, killer SEO insight and a RT conversationalist, follow. I even found friends, yes Dan @danperezfilms, real friends.  Several groups of people, most notably #UsGuys, but also friends at #oneshotwednesday, #haiku, #fourwords, #genychat, #imcchat, #gogyohka, #poetparty, #theprompt, #Tweetdiner, #usLiveWell and even on #mbtweetrace!  I started to snowball with followers.
TwentyFeet.com showed me what was happening, but not why.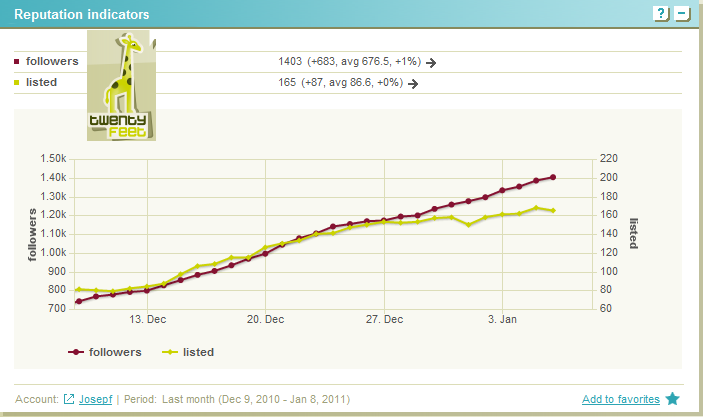 Check out Twentyfeet.com and ask for Martin @mseibert. They are working on the "why" and have other interesting Social Media Metrics Visualization tools and dashboards under development.
So in a month I doubled followers and the curve is pretty tight so in another month and another.  Well two problems.  One, I believe Social Media is really Relationship Media. I do not want to become a "broadcaster". (just not my thing) Two, where am I going to find the time to screen all these new "friends"?
Then, it happened, the shattering Public unfollow!
Ok, I took it like a man.  You know, blinked back the tears and soldiering on.  The Conversation even turned to should I get multiple Twitter IDS and Tweet Poetry on one, #UsGuys on another.  Helpful people DM'd me saying they'd follow my Sybilian other accounts.  I guess I need one for my family and one for #Ideachat and maybe another for #usGeeked, oh and I really probably should have one for when all the other's are in #Twitterjail.
But, wait a minute?  Isn't that what I use Tweetdeck for? Oh yeah, it is!  So now I'm on a mission to teach people how to use tools and Hashtags.  Check out one YouTube Video on how to configure Tweetdeck for LinkedIn here.  I hardly ever look at the "all friends" stream in Tweetdeck.  I'm hanging out in Hashtags on Tweetdeck on the PC, Android, and iPad (can I say iPad here without a Borg swarm of Bots offering me dubious links?).   Take a look below (click on it to blow up real size).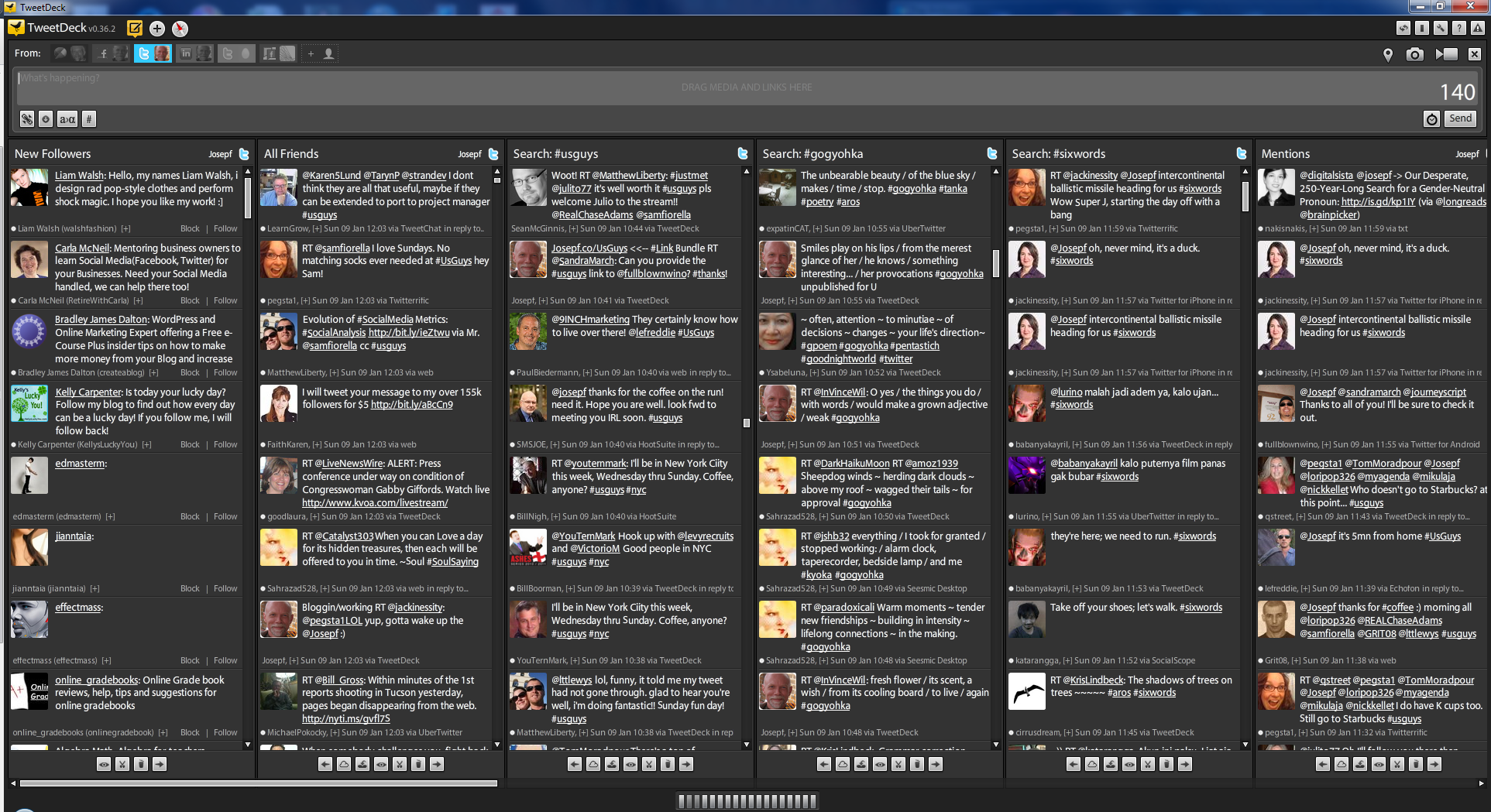 One of the reasons I Love Hashable!
If you do want to follow me or even better, know someone who does please use Hashable.com Hashable will let me know who we know! You need an Invite to join the Hashable Beta and I'll be happy to send you one.  For more information go to: Why I Love Hashable! The screenshot below shows a recent Hashable #Intro.  I see who introduced us and what followers we have in common!   This is so much better than scroll, scroll, scroll!   Can read their Bio, click through to Twitter or follow back right here.  Hit me with a #justmet if we've become friends on the Stream and you want to officially mark it!   The #justmet tag gives us a link with similar information below. (again, you have to be "in" Hashable's beta for this to work.
Follow me if you dare…
#justsaying, I do warn people that I'm for experienced Tweeters only.  Because I have multiple interests.  Think of Twitter as a Big Conference, like #CES.  Watching my steam is kinda like trying to listen to 10 presenters at 9 different booths at once. Way too noisy and its just gonna give you a headache! Step into one of the booths (Hashtags) and hang out with me for a while. Maybe you'll feel like Joseph Omansky does if you do:
#tips for new Twitter users or even experienced ones
Try a Tool! I use Tweetdeck but hear Hootsuite & others are OK.
Tweetdeck give you multiple columns, easier to see Hashtags
Tools let you organize faster
The basic version are free and if you saw I told ya to try it I'll help you out
Hangout in a hastag for a bit first.
You'll be surprised who you do make friends with.
You'll learn about other hashtags that might interest you even more.
The #Link is from my Bit.ly Pro account — I did not start the Public List
The format was created by Robert Swanwick (@swanwick)
You can also follow on @twchat
Try Hashable & Stay Tuned for Twylah.com.
I bite, Hashable doesn't.
Tweet