Tweet
Is the Google Tag Manager Fundamental Course for you?
Almost everyone should take the Google Analytics Academy's "Google Tag Manager Fundamentals course" course. Okay, maybe not if you're a Nurse or FBI Agent without a website. But if you touch any field of digital marketing then Google Tag Manager is like Yoga. It'll change your life. The whole premise behind Tag manager is to make life easier for Marketers. We marketing types can place "tags" oto our websites with little or no technical support. This does not mean that technical should not be involved. If you treat them well (coffee, Jolt, Twinkies, beer, whatever works) then you can make your Google Tag Manager implementation sing for you.
I just finished the Fundamentals course and proudly display my certificate at the end. I realized that my whole team and my technical folks should also take it. Why? Because there is simply so much untapped potential and integration involved. For example, dynamic remarketing for display advertising can be easily implemented through tag manager. Are you using Facebook remarketing? Implement it faster and easier with tag manager. Want integration between your CRM and your website? There's a tag for that.  Have an obscure pixel that you need for a campaign? Build a Custom HTML or Custom Image tag.
Tag manager can be difficult to get your head around if you have no prior experience with tag management. It is a major boon to marketers so I implore you to try it. Go through the course to learn the basics. Then go find your favorite geek and start implementing. If you want additional resources I've been curating top articles and tips for Google Tag Manager. Have one of your own? Please send it to me!
The course is active right now and runs through July 24th, 2015. I'm sure they will open it up again. But why wait? Click through right now to sign up: Google Tag Manager Fundamentals course.
Quick Overview of Predefined Tags
Immediately below is a screenshot of the predefined Tags built into Tag Manager. Please note that you can write your own!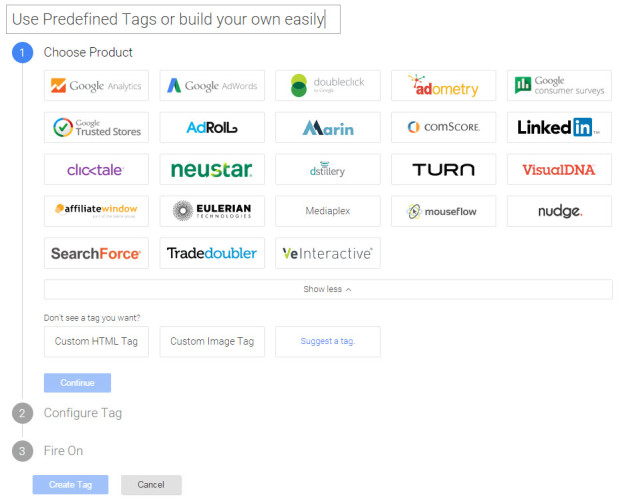 Google Tag Manager Fundamentals Certificate for Josepf Haslam
Unlike AdWords and Analytics, the GTM Certificate is a private URL. So here's the certificate itself. Go get yours!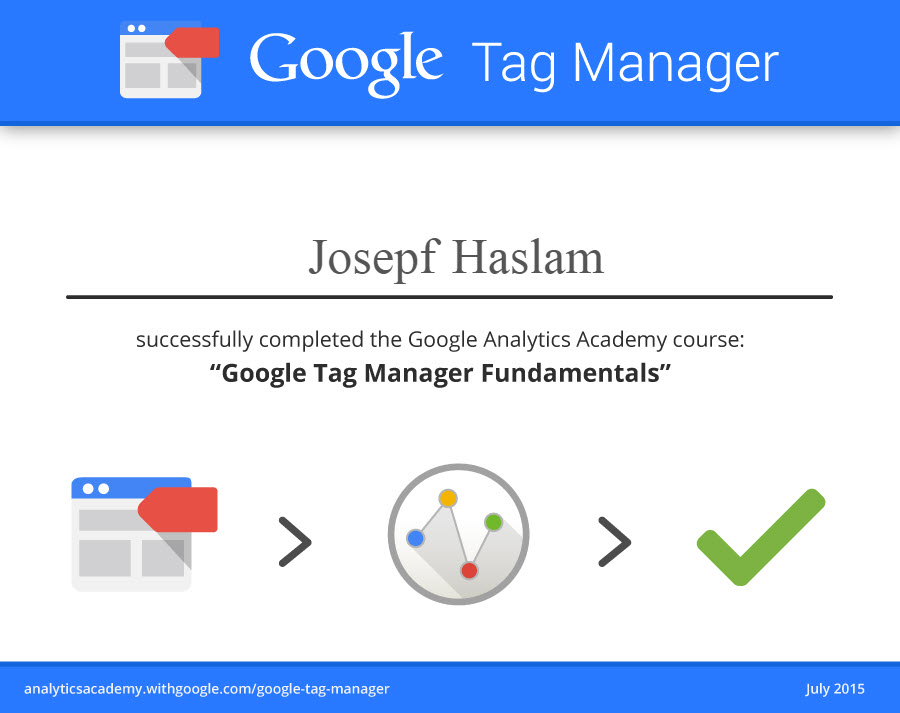 Tweet