Tweet
Hashable is about relationships
Drop Social Media. Make it Relationship Media. What we have here are relationships, of some sort, between people.  Mike Yavonditte and Emily Hickey are great people.  Having met them I went from being a fan of @Hashable to a firm supporter of "them". This view is shared by many I've spoken with (literally, & Skype). Mike reaches out, engages people, DMs them, and follows up. He is what would author Daniel Goleman would call Emotionally Intelligent.  My relationship with Mike and Emily:

Hashable is about not losing "touch"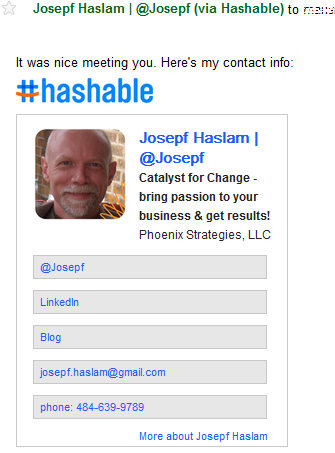 So great, you #justmet someone on Twitter, or even better IRL (in real life).  What do you do?  Well, I met someone on the train ride to New York this past Tuesday.  Business card #fail on my part; no problem, sent them a #justmet e-mail right then and there.  They received a click-able business card from me, via Hashable. Now hold that thought!
Big Cardscan Pro and Plaxo user here. Also use LinkedIn's Outlook Toolbar and have played with Spoke and many other contact management tools. So, have you ever come back from a Conference or a Chamber of Commerce  Mega-networking event and have 200-300 cards to process?  Wow, now I can get directly actionable business cards?  And Hashable is going to build me an address book that integrates all of my diverse contact information?? Really?!
Really.   And we're not even touching the tip of the Iceberg.  Hashable will show you (and soon remind you):
who you know: Geography, Interests, Expertise, Affinity Groups
how you know them: Met where, intro'd from whom, related to/knows these..
when was the last time you interacted with them: fast visual reminders to "touch"
their consolidated Social Media contacts: (subject to their preferences)
who they know with relevance: (publicly posted) (casual to tight)
Hashable is about how well you know who you know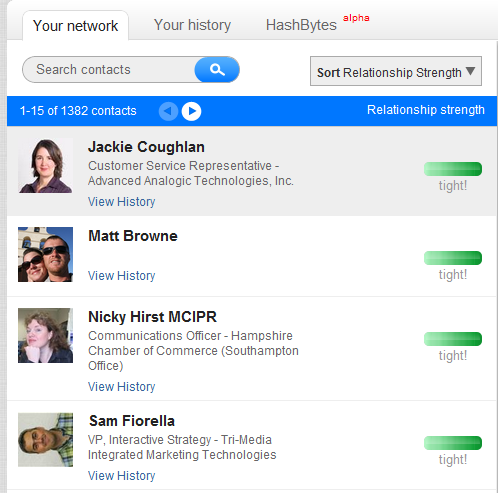 This is the part I love so let's see how to make it clear…  First, Hashable let's you literally see how well you are connected with your contacts. You can quickly and easily "see" your relationships and Hashable is adding new features to make this even easier.  Coming soon will be Timeline features.  "Mark" when you #justmet someone and see how the relationship evolves over time.  Think of it as a genealogy tree for your relationships.  More on this next post.
Second, say you meet someone on Twitter or the Train or Facebook or… and "like" them.  You interact a few times and then the "stream" just does not intersect you again.  This happens often, especially on Twitter.  Well you can now be Strategic with your relationships!
Categorize (coming) someone based on how Important you think they are to you and avoid the tyranny of the Urgent!    Hashable could, for example, display the people you said you wanted to talk to at least once a week.  Then with the enhanced messaging (coming) you can instantly from the list Tweet them, or email them.   For companies managing supplier or customer relationships this could be a real boon!  For anyone who wants to simply keep in touch consistently it's going to be great!
Hashable makes Business Cards obsolete
Did you know Business Card are over 400 years old? Will we still carry paper Business Cards?  Sure!  I still buy books and CDs too, although I'm a little confused about why on the CDs.  Paper is tangible and there is a nice ritualistic exchange of cards which my Japanese colleagues have down to perfection.   But I really do not want your card. And I do not want to scan it, tag it, and connect up all the links.  Please, let me find you in Hashable!  You do want to be found?  Right?
Hashable is superglue for weak links
The Hashable interfaces for Timelines and Relationship Tree are under development.  Please imagine being able to see who influences you and how they influence you.  As John Frankel, here, says "To me Hashable is a dynamic LinkedIN that knows the nature of connections. LinkedIn is Static."  This is an exciting and evolving area!  The Hashable team has the passion and drive to figure it out and guess what?!?!  They not only want your feedback, they actively ask for it.
With the Relationship Tree you will:
be able to focus on a Contact,
remember where and how you met them,
trace others you have met through them,
and people you have introduced to them.
But wait, it gets even better!
You need a Philadelphia Lawyer.  How are you going to find one?  Yellow pages?  NOT.  You will check your network.  With Hashbale, you will be able to zero in not just on the Philadelphia lawyer but who you know who knows her.  Hashable calls this the best path.  With the best path Network search you will be able to figure out who you ask for the referral or recommendation.   The best networkers do this today.  They have a huge Rolodex of contacts that they keep in their head and they manually mine this to make connections.  Hashable will streamline, automate and facilitate this process.  With Hashable we'll be able to realize the benefits of Weak Links more effectively.  Hashable makes Technology almost as Socially Intellegent as Yavo (come on Jeff, this is your opening).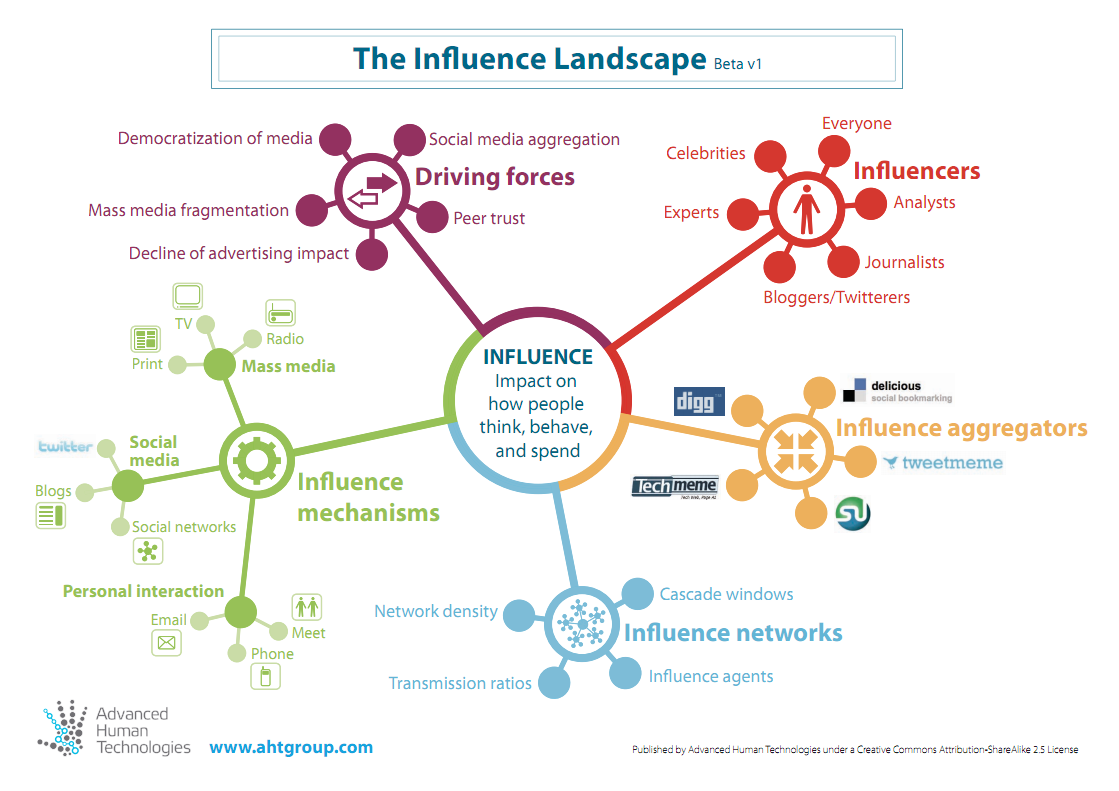 Hashable brings relationship management to Social Media
Our relationship environmental is changing exponentially.   It is time to move past the 400 year old Business card and the antiquated Contact Management systems which have grown up around them.  Hashable is trying to help you fluidly and dynamically map your relationships and management of them.  Keep in mind the software is BETA Invite only!  Find me for an Invite, here @Josepf.  It has not been publicly released into version 1.0 yet.  However, guess what?  You get to help shape what you need and want in a Relationship Management System!  The team is flexible, accessible, and open to intelligent feedback.  Plus, did I mention they're really nice people?  Peeps you want to hang out with.  Expect my relationship with Emily and Mike to get get tighter.  Check it out and I hope you feel the same way too.
Additional Links and reviews about Hashable:
Tweet