Professional Workshops and Training via Video
I love doing workshops and training because I get to make a tangible impact in a short period of time.  For years I have been making quick, focused videos to help friends of mine out on various digital marketing topics.  One of them, Matt Brown, encouraged me to make more and figure out a way to monetize them.  Well, that encouragement stuck with me and recently I've launched a series of digital marketing training videos on Udemy.com.  The first course is called Twitter Marketing Best Practices & Analytics for Business.
Twitter Marketing Best Practices & Analytics for Business
This course is designed to take you from zero to advanced on Twitter in a very methodical and time effective way.  The course is very modular and is built around Ten 5-8 minute videos.  Take this course if you want a well rounded Professional looking, Business or Corporate Twitter account / and subsequent marketing campaign.  Link for: Twitter Marketing Best Practices & Analytics for Business.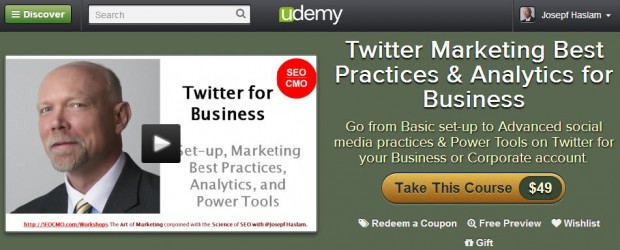 LinkedIn for Business from Set-up to Analytics
This course will make you more proficient at LinkedIn no matter what you current skill level may be.
Optimize your LinkedIn Profile for Search & Engagement.
Learn how your network sees you in Search Results on LinkedIn and how to change that!
Learn effective ways to build your LinkedIn network and increase your influence.
Understand "Content" on LinkedIn and learn how to master it to enhance your marketing efforts.
Learn how to build an effective LinkedIn Group and manage it for Influence.
What makes for a great LinkedIn Company Page? Join us to find out!
Analytics tie it all together. We'll review how to monitor and measure your LinkedIn activity.

In-house Workshops and Training
Have a need for organizational development?  Want to get everyone up to speed on important concepts and plans?  Let's talk about putting together a customized workshop or training series for you!  Please check out my LinkedIn profile LinkedIn.com/in/JosepfHaslam to see a slew of speaker and trainer recommendations.