Tweet
Get Social or Die at #140MTL Montreal May 15th, 2012
During the #140MTL presentation on May 15th, Josepf cut short his presentation to accommodate a Marriage proposal. Below is the full intended presentation for the conference.
Elements of get Social or Die
Get Social or Die, Josepf asserts, is a Darwinian event. We are at the dawn of a new age given Social Media's ability to create fluid networks of connections. Much like the invention of the printing press facilitated radical transformations in intellectual thought, innovation, and creativity; Social Media is driving these connections today.
Twitter, to the uninitiated, is the perfect intersection of ADHD, Narcissism, and Stalking. However, the up-surge of Social media is helping with the inherent promise of "most relevant results" from the Search Engines. Social Signals and connections are working their way into our Search Results. This is driving the "Age of the recommendation". We can get information and recommendations from people whom we trust, and that we know care about us. People are already using reviews and recommendations to influence their purchase decisions. This trend will only continue to increase.
Social Media can be a confusing, bewildering array of platforms. Part of the key for you personally and professionally is to figure out who your intended community is and where they live online. The next step is engagement. Engagement starts with listening and then relationship building.
Transcript of "Reading" from Mila Araujo
How Social "works" can be found in this reading below.  This reading was excerpted from a Dialog with Mila Araujo about the amazing power Social Media has to form connections.  Form new relationships, new paths, new meanings, simply form out of seemingly nothing.  More about Mila.  The words below, although edited, are almost all hers…
Relationships are delicate they form out of nowhere and evolve on their own
Everything starts with a spark
Emotions and connections spin through time and space / uncontrollably creating complex universes out of nothing — a word, a look, a laugh, a project, an idea – things move…
Spinning particles of dust turn into forces of gravity drawing everything into focus
nothing then is something – something emerges from seemingly nowhere.
the only way to live / in ever changing environments is not to question and refuse.
BE: Feel, experience… reflect, then BE.
connections are gifts.
Twitter as the new Coffeehouse
Twitter, and the other Social Media platforms, once understood, are the new coffeehouses of the Reformation and Enlightenment. Each connection can lead to thousands more. Worlds open up through following a hashtag. Within these hashtags (communities) more relationships are formed leading to yet other universes of people and thoughts. These virtual relationship can and do become "real" in the flesh relationships. The entire speaker set of the #140MTL were all originally Social Media relationships. People who have since decided to meet and form many friendships.
Social Signals are influencing Search Results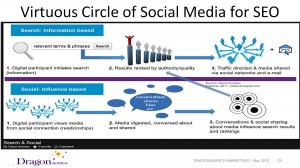 The worlds of Social and Search are not just colliding, they are overlapping and to some extent merging. As the Search Engines continually refine their ability to understand Semantics, Context, and Relationships we will see increased incorporation of Social Signals into Search. Participating in the "Coffeehouse" world of Social media has multi-fold benefits then. It can help to spur your innovation and creativity and it can help you get found or become more relevant.
Historic increase in connectivity has spurred scientific innovation
Steven Johnson, in his book Where Good Ideas Come From
, explores historically how innovation happens. Johnson believes that the key is the collision between half-formed hunches. That as people socially interact with each other that they build upon each other's ideas, borrowing pieces of a proverbial puzzle. Have means to meet and share both increases connectivity and the rate of innovation. Johnson credits the coffeehouses and clubs of England and France as being hotbeds of Enlightenment and Modernism development. Today, these interactions are taking place online within various Social media platforms.
Don't be a Neanderthal
By all accounts the Neanderthal's were just as smart or smarter than Homo Sapiens. They were also stronger and well established in their territories. The Neanderthal, however, lived mainly isolated from each other and in smaller communities. They did not usually inter-connect or share with each other. This fact contributes to a leading theory as to their demise. The more Social Homo Sapiens used their networks to out compete with the Neanderthals. The Homo Sapiens Social connections overwhelmed the more powerful and established Neanderthals. Large, Powerful, but socially isolated Businesses today are, in my opinion, in the same position as the Neanderthals. My advice? Get Social or Die.
Tweet