Tweet
Have you found the power of Twitter and Hashtags yet?
More on hashtags here.  Please Stop Following me on Twitter! here.
@Solete
on twitter is my #1
klout.com/Josepf
influencer (that is a real person, not, say Mashable).  We met at the AMA Virtual Conference 
: Code Crackers Advanced Social Media Strategies
.  As an side, learned as much from the Chats in there as I did the sessions. Noticed the Twitter stream and hit it once or twice but mainly stayed in the conference. Did collect tons of v-cards and apparently enough other items that I won a free membership for being so active at the session.
And then a funny thing happened.  I added @Solete to my Twitter account to follow. The 63rd person. And hit a Malcolm Gladwell like Tipping Point! This one little thing (@Solete) changed my life like Yoga.  She introduced me to #UsGuys!  The engagement of that group drew me in and I quickly met other wonderful people like @moondustwriter (luv ya!), @jesskristie (blush), @jchernandezjazz, and a host of other people I'm devoted to following/sharing with now.  (check my page @Josepf for current list)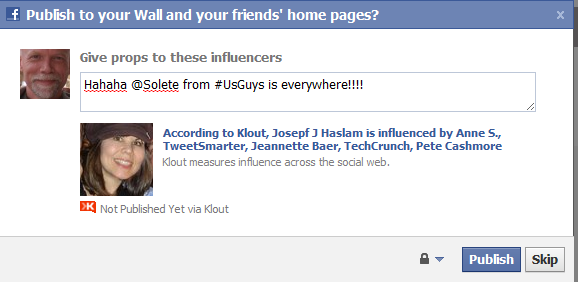 We play with Klout for fun and for whatever reason this lady sticks like fresh chewed gum to the foot of my Klout profile.  We all banter back & forth on #UsGuys and have some way cool new friends like @Mongoosemetrics who have added a lot to the fray!  And then there is also @MyAgenda (she's mad for the lack of previous mention, however, she also is a major influencer!)  we had an epic conversation this very morning with @SMSJoe (am still driving toward CA trying to find that coffee!)
We discuss many other things besides Klout; rockmelt (want an invite?), Social Media Strategy, Branding, Customer Service, Statistics, and more.   The conversations are great, the sharing awesome, the core team is cohesive and there are too many great people to mention by name or you'd think I got an Emmy.  Listen, do yourself a favor!  Come, hang out with us on Twitter for a while.
See if @Solete will influence you or do you go to: @TomMoradpour's side in the #cagematch?  Or @Mikulaja @Pprothe @RustiAnn @CarlSorvino  @REALChaseAdams @nickkellet @heidicohen @smartel @Galactic @DebWeinstein @qstreet   @MargieClayman @danenow @PRWestcoast  or got the idea?